TestVAX - In the Service of NetBSD

DEC Model Name
DEC Part Number
CPU Type
Peripherals

Memory (36MB)
4MB
16MB
16MB

Disk Capacity
140MB
2.1 GB
650MB

Other Boards
SCSI Interface
16 Serial Ports
MicroVAX 3400
640QS-F2
KA640 (2.4 VUPS)
LANCE Ethernet (ESA0)
DSSI

(on CPU card)
MS650-BA
MS650-BA


RF31
SeaGate Barracuda
RRD43 2-X CD-ROM


CMD CQD-440/TM
CXA-16
---
TestVAX is a VAXServer 3400, also known as a MicroVAX 3400.This VAX was rescued from its slide toward the dump from a fortune 100 company by an astute computer operator who realized that yes, somebody would probably be able to use this old thing. I am here to tell you it is very useful, I'm working on a DSSI disk driver for NetBSD on it.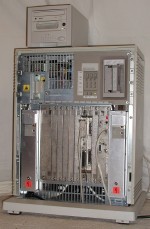 The picture on the right shows it with the front "door" removed so that you can see its insides. (Sort of VAXporno if you will --chuck). If you click on the image you will see a larger version of this picture (yes with more data in it) and if you click here you will see the full resolution (aka huge) version of the picture. This VAX has a KA640 processor board and is in the "MicroVAX 3" family of VAXen. The performance is around 2.4 VUPs which makes it slightly more than 2.5x the speed of the MicroVAX II.
Unlike the MicroVAX II (KA630) and MicroVAX III/MicroVAX 3500 (KA650) the KA640 CPU has both the Ethernet and a DSSI disk interface integrated with the processor. This allows the KA640 to get 4.0MB/Sec of bandwidth to the disks when the Q-Bus gives at best about 3.0MB/sec. Thus, the MicroVAX 3400 is actually faster in terms of I/O then the MicroVAX 3500 which has a higher numbered CPU. Unfortunately NetBSD doesn't support the on-board DSSI interface (I'm working to fix that!) and so this guy has a SCSI interface on the Q-bus talking to that thing on top (CD-ROM + 2GB SCSI drive).
The system is housed in the BA213 cabinet, has a SCSI interface (this is what I boot NetBSD from when I'm testing the DSSI driver) 32MB of RAM, a CXA16 sixteen port serial interface, and the TQK70 tape controller. The tape drive is a TK70, 295MB linear tape type drive. The SCSI box has a CD-ROM (Toshiba) and 2 GB hard drive (RZ28).
Copyright (c) 2000, Chuck McManis, All Rights Reserved
NOTE: All images on this site are COPYRIGHT © 2000, 2001 by Charles McManis, you may not use them without written permission from me! (Especially EBAY Auctions!) You may put a link to this site with a note that your system is "like" one of mine but you cannot use the images. Thank you.